A fashion show for goats. Yes, we are serious. Baaa are we serious!
In February of this year, our fearless leader, creative thinking, and inspiring Founding Attorney, Milena Christopher, was in San Francisco with her family and in searching for family-appropriate activities, she happened upon the 5th Annual Goat Fashion Show in Union Square. This incredibly entertaining event produced by Value Culture featured First Responder and celebrity goat handlers dressed in dazzling costumes.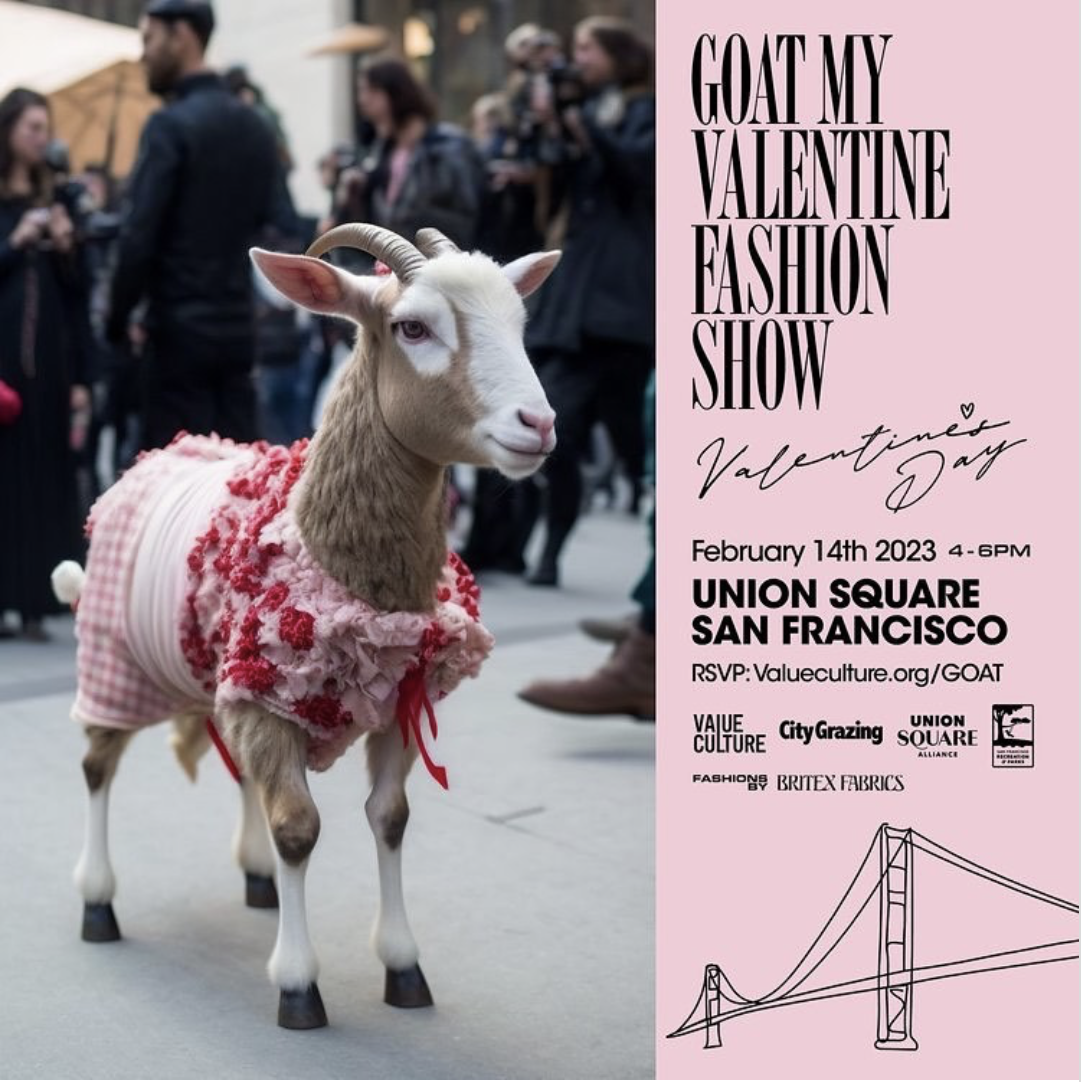 Despite being a self-described "city gal," Milena felt immediately passionate about bringing an event like this to Dripping Springs and surrounding Hays and Blanco counties. My new employee interview with The Law Office of Milena Christopher was just 16 days later, and it was a match made in goat heaven! As "mom" to 8 goats, there was nothing Milena could do hold back my enthusiasm.
And so it was born, Goat Couture™ 2023, a goat fashion show intended to bring fun, fashion, and festivity to Dripping Springs Ranch Park, with proceeds to benefit the six FFA chapters in Hays and Blanco counties. The event will feature themed costume competitions in many categories (all community members invited to showcase their goat!), craft area, games, adopt a goat section, specialty goat product & service companies, and much more.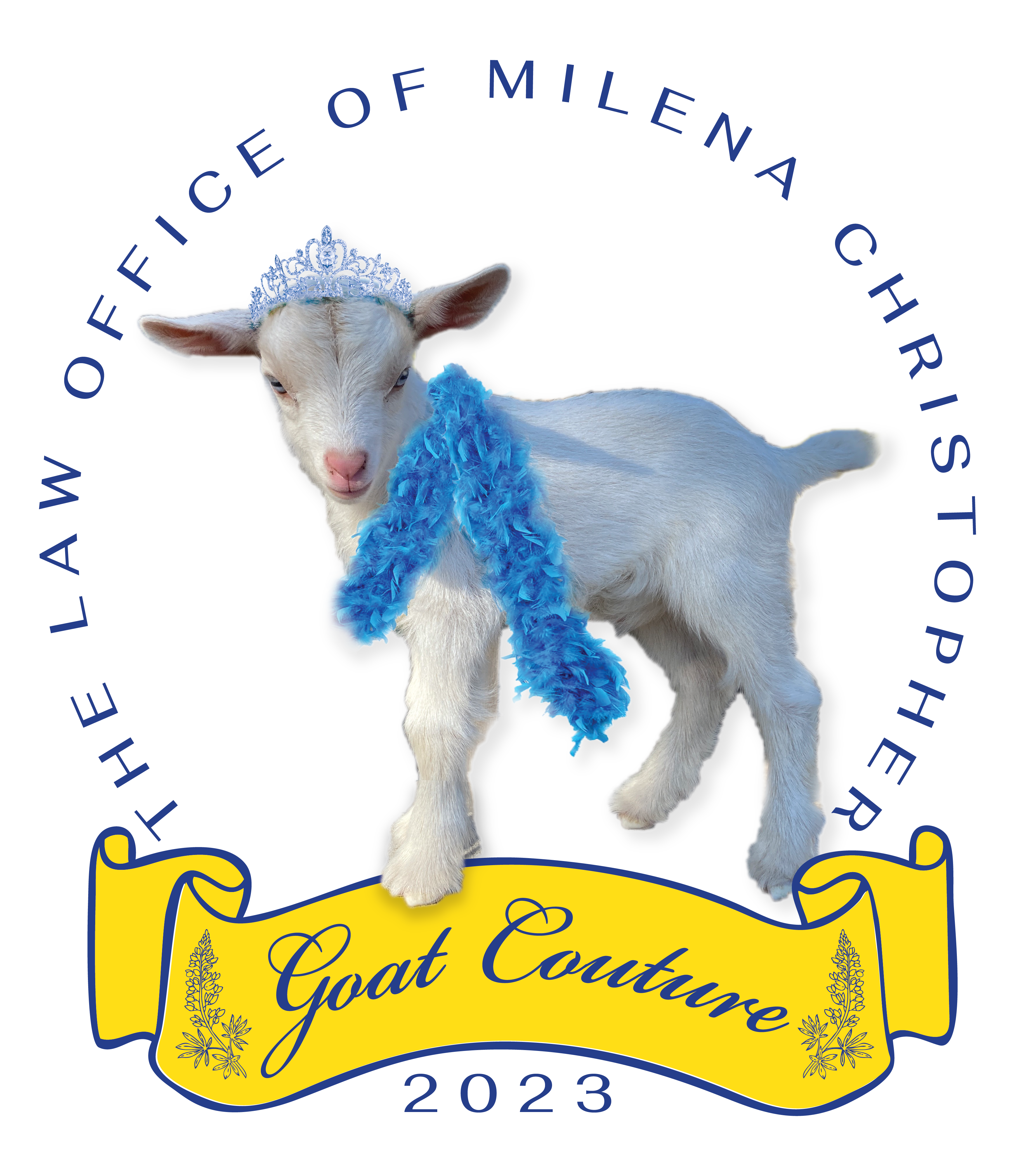 There was no question this event had to be held at Ranch Park - the epicenter for all things agriculture in Hays County, with close proximity to Travis County and the greater Austin area, as well as further west into Blanco, Comal, Llano, Burnet, and Gillespie counties. Choosing the FFA Chapters at Wimberley High School FFA, Jack C Hays High School FFA, San Marcos High School FFA, Blanco High School FFA, Lehman High School FFA, and Dripping Springs High School FFA as the recipients of proceeds from our inaugural Goat Couture™ event felt like an appropriate way to showcase all the work students put into raising, feeding, and training their competition goats.
Details for this event are still "kidding out," so please check our Facebook event page for up-to-the-minute details on sponsorships, contestant participation, admission, activities, and more. We plan for Goat Couture™ to be an affordable way for young and old alike to have a great time celebrating the history of Dripping Springs and why goat culture has been a cornerstone of our city.
The headline sponsor is The Law Office of Milena Christopher and many sponsorship opportunities exist, including an exhibit center. Please consider sponsoring or share with a friend or business colleague.

We invite residents to share photos of their goats in costume leading up to the excitement of Goat Couture™ 2023 by either emailing or posting on our Facebook page.
Goat Couture™ 2023 is produced by LOOMC Charities, Inc., a foundation established by Milena & Ken Christopher so they may bring more philanthropic support and activities to the Texas Hill Country.
For sponsorship or media inquiries, please contact Brea Black at (216) 904-6046. We appreciate if general inquiries are sent to our email, allowing us to keep our focus on tending to the legal needs of our clients.
The Law Office of Milena Christopher is more than your trusted local Hays and Blanco county law firm. We are a family of individuals committed to our clients and the betterment of the communities we serve. Our primary practice areas are Family Law (divorce, adoption, child custody and support, etc.) and Estate Planning (Wills, trusts, powers of attorney, and probate).